ONSMS is seeking a Physician Assistant
Physician Assistant Job Description
Position Overview
The Physician Assistant (PA) will provide health care services to patients under the direction of a physician. PA's are academically and clinically trained to perform many of the routine but time-consuming tasks that physicians usually do and are accountable for their own actions and accountable to their supervising physicians.
Duties/Responsibilities:
● Examines patient, takes medical history, records results, and makes preliminary diagnosis or decides on follow-up procedures.
● Administers and orders diagnostic tests such as x-rays, electrocardiograms, and blood work, and interprets test results.
● Performs therapeutic procedures such as immunizations, injections, suturing and wound care, and managing infection.
● Exercises professional judgment regarding consultation with supervising physicians concerning appropriate treatment.
● Develops and implements patient care plans, instructs and counsels patients, and records progress.
● Prescribes medications to the extent allowable by state guidelines and clinic regulations.
● Provides general health education regarding matters such as proper diet, family planning, emotional problems of daily living, and health maintenance.
● Assists physician with emergency treatments and more complex procedures.
Required Skills/Abilities:
● Demonstrated competency dealing with all age groups including neonates, infants, children, adolescents, adults, and geriatric patients.
Education and Experience:
● Completion of a four-year physician assistant baccalaureate program and a year of clinical training, or;
● Completion of a two-year accredited physician assistant program (which requires two years of undergraduate study) plus two years of clinical training following completion of PA program.
● State accreditation based on certifying exam.
Physical Requirements:
● Prolonged periods of standing, walking, and moving.
● Must be able to lift 50 pounds at times.
● Frequent exposure to chemicals, bloodborne pathogens, and patient body fluids.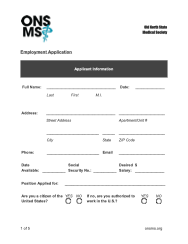 No Google Account? 
Complete this employment form and email it to hr@onsms.org with the subject line: "Physician Assistant Candidate: [your name]"