ONSMS is seeking a Register Nurse
Register Nurse Job Description
PRIMARY FUNCTION:
Old North State Medical Society is looking for Registered Nurses to evaluate a patient's health status, estimate the level of health risk and inform/provide some form of feedback to patients to motivate behavior change to reduce health risks. These assessments will be done for COVID-19 and occur both in-person and telephonic. Proper PPE provided.
Responsibilities:
● Assist individuals to identify their need for treatment programs
● Assist client to meet all requirements
● Other duties as assigned
Qualifications:
● Current RN License
● One year of relevant and/or specialty experience preferred
● Current BLS card (if applicable)
● Current Health Certificate (if applicable)
● Current TB or Chest X-Ray (if applicable)
● Full command, verbal and written, of the English language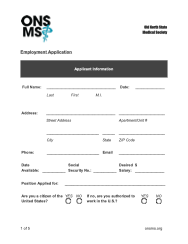 No Google Account? 
Complete this employment form and email it to hr@onsms.org with the subject line: "Register Nurse Candidate: [your name]"