ONSMS is seeking an Administrative Assistant
Administrative Assistant Job Description
Position Overview
Acts as departmental timekeeper and provides a full range of administrative support to the department, including support to departmental administrator. Maintain provider appointment, credentialing and separation process for the department and in conjunction with other staff members.
ESSENTIAL FUNCTIONS:
Administrative support to Administrator and cross-coverage with other personnel when staff members as needed.
Manages and participates in provider & locums credentialing appointment and separation process. Work with department members, medical staff and other appropriate personnel.
Schedules meetings for administrator and administrative suite as necessary
Manages travel and expense reimbursements
Department timekeeping and related personnel functions as it relates to the hiring and separation process.
Assists in tracking CRNA's PARs along with Office Manager
Schedules interviews and meetings
Telephone coverage and reception for the administrative suite.
Interacts with co-workers, visitors, and other staff consistent with the values of ONSMS.
EDUCATIONAL/TRAINING REQUIREMENTS:
High School Diploma or GED. Associates degree preferred
EXPERIENCE REQUIREMENTS:
Five years' experience in a professional office setting and clinical experience preferred.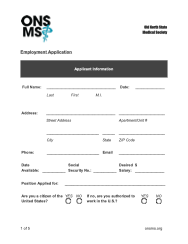 No Google Account? 
Complete this employment form and email it to hr@onsms.org with the subject line: "Administrative Assistant Candidate: [your name]"