ONSMS is seeking Site Coordinators
Site Coordinator Job Description
PRIMARY FUNCTION:
Old North State Medical Society (ONSMS) is hiring COVID-19 Non Provider Testing Site Coordinator that will be responsible for execution and coordination of all non-clinical daily activities of the COVID-19 community testing site, act as primary support for clinical activities, and take a leadership role in coordinating daily activities with city-wide leadership. Several positions available in various cities.
ESSENTIAL FUNCTIONS:
Ability to develop and maintain cooperative and effective working relationships with a variety of individuals, groups, and organizations; Excellent written and verbal communication and presentation skills, including ability to tailor technical material to a variety of audiences (e.g., administrative and technical leaders; front-line staff); Ability to maintain a high level of accuracy, transparency and accountability in all work products; and keen attention to detail, flexibility and an enthusiastic work ethic.
Role and Responsibilities:
● Testing Site Coordinator oversees daily operations of COVID-19 community testing site, ensuring that the site is adequately prepared for and accessible to community members seeking testing and other healthcare services.
● Coordinate with facilities, IT, supply chain, and safety to follow established processes, resolve problems, and identify opportunities for improvement.
● Lead non-clinical staff and support clinical staff
● Provide timely, routine reporting on a variety of items, including inventory of personal protective equipment and other supplies, non-clinical staffing, and other quantitative or qualitative data, as directed
● Support and lead site-level efforts to maintain a positive patient experience for patients getting tested for COVID-19.
EDUCATIONAL/TRAINING REQUIREMENTS:
Bachelor's degree preferred
EXPERIENCE REQUIREMENTS:
3 or more years of operations experience preferred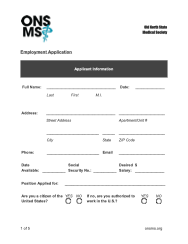 No Google Account? 
Complete this employment form and email it to hr@onsms.org with the subject line: "Site Coordinator Candidate: [your name]"