ONSMS is seeking an Executive Director
Executive Director Job Description
Position Overview
The Executive Director is responsible for supporting the mission of the Old North State Medical Society through growth of membership, fund-raising, and programming.  Planning, executing, and evaluating projects, including building and managing project teams are central to this position.  The Executive Director will report directly to the ONSMS Board.
Responsibilities:
Program Development and Planning:
Identify program needs and establish clear and measurable objectives and goals to demonstrate how needs are met

 

Clearly communicate to The Board regarding annual or other short term goals and provide leadership in goal attainment, including the celebration of achievement

 

Determine staffing needs to meet program objectives

 

Hire, train, support, and evaluate staff for all program areas and other staff as may be required

 

Facilitate renewal of yearly grants from state and local agencies, research potential new funding sources, and submit grant proposals and applications

 

Maintain and modify program policies and procedures for departmental operations

 

Develop and implement systems of evaluation of all program components to ensure effectiveness, efficiency, and accessibility
Financial:
In conjunction with The Board, Treasurer, and ONSMS Accountant, plan the annual budget

 

Develop and evaluate sources of additional funding
Knowledge, Skills & Abilities:
Grant writing/management experience strongly preferred
Graduate degree in Public Health/Health related sciences preferred
Excellent interpersonal and communication skills
Leadership and creative problem-solving skills
Ability to manage multiple demands and deadlines with flexibility
Requirements:
Committed to the mission, vision and values of the Old North State Medical Society
Bachelor's degree

 

Demonstrate ability to work as part of a team
Previous management experience
Basic computer skills; design/marketing skills a plus
Willingness to travel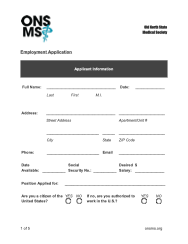 No Google Account? 
Complete this employment form and email it to hr@onsms.org with the subject line: "Executive Director Candidate: [Your Name]"
Interested in applying? Complete the job interest form below: