ONSMS is seeking a Certified Medical Assistant
Advanced Practice Provider Job Description
PRIMARY FUNCTION:
Certified Medical Assistant is asked to assist with registration of patients for COVID-19 vaccine administration/testing and inform/provide some form of feedback to patients to motivate behavior change to reduce health risks. Proper PPE provided. Note: This is a temporary position through December 30, 2021.
RESPONSIBILITIES:
Welcomes patients by greeting them, in person or on the telephone; answering or referring inquiries. Assist clinic staff to register individuals for clinic testing.
Prepares patients for the health care visit by directing and/or accompanying them to the examining room; arranging examining room instruments, supplies, and equipment.
Verifies patient information by interviewing patients; reviewing and/or recording medical history; taking vital signs; confirming purpose of visit or treatment.
Supports patient care delivery by helping health care providers during examinations; preparing laboratory specimens; performing basic laboratory tests on the premises; disposing of contaminated supplies; sterilizing medical instruments; administering medications on the premises; authorizing drug refills as directed; telephoning prescriptions to pharmacies; drawing blood;
Other duties as assigned
QUALIFICATIONS:
Clinical Skills, Creating a Safe, Effective Environment, Health Promotion and Maintenance, Hospital Environment, Procedural Skills, Documentation Skills, Verbal Communication, Inventory Control, Planning, Dependability, Medical TeamworkCertified Medical Assistant
One year of relevant and/or specialty experience preferred
Current Health Certificate
Current TB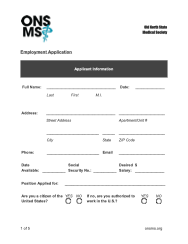 No Google Account? 
Complete this employment form and email it to hr@onsms.org with the subject line: "Certified Medical Assistant Candidate: [your name]"