ONSMS is seeking a Vaccine Portal Patient Registrant/Scheduler
Vaccine Portal Patient Registrant/Scheduler Job Description
PRIMARY FUNCTION:
The Vaccine Portal Patient Registrant/Scheduler will interview, collect patient information, demographics, insurance and emergency contact information to ensure accuracy of information entered into the electronic personal health information system.  Must have excellent customer service skills. Note: This is a temporary position through December 30, 2021.
ESSENTIAL FUNCTIONS:
Efficiently and accurately enters data from electronic or paper formats into the lab system or other identified database systems.
Maintains data entry requirements and follows data program techniques and procedures.
Quickly identifies any discrepancies in demographics and resolves accurately
Process reports as instructed to support for COVID-19 reporting
Other data and operations, administrative duties as assigned.
EDUCATIONAL/TRAINING REQUIREMENTS:
High School Diploma or Equivalent.
Demonstrated ability to enter demographics information quickly and accurately.
EXPERIENCE REQUIREMENTS:
Computer literacy and familiarity with various computer programs such as MS Office
Careful attention to detail and accuracy
Types and navigates computer quickly and efficiently
Knowledge of grammar and punctuation
Ability to work to time constraints
Ability to work on-site at the COVID-19 testing sites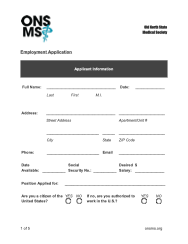 No Google Account? 
Complete this employment form and email it to hr@onsms.org with the subject line: "Vaccine Portal Patient Registrant Candidate: [your name]"