ONSMS is seeking a Registered Nurse
Registered Nurse Job Description
PRIMARY FUNCTION:
Registered Nurses to provide vaccination and testing for our COVID19 clinical services.  These services could be in an office setting or mobile unit. This position is a part of a response team providing nursing services.  Proper PPE provided. Note: This is a temporary position through December 30, 2021.
RESPONSIBILITIES:
Collect patient health data
Provides clinical intervention, case management, care coordination, referral and follow-up to individuals and families who are members of a vulnerable population and/or high-risk group
Counsel and educate patient on treatment plans for patients seen in office
Consult with physicians on treatment plans
Administer test or vaccine for COVID19
Assist individuals to identify their need for treatment programs in regards to hypertension and
Analyze, review and judge situations to make the best decision based on the circumstances
Other duties as assigned
QUALIFICATIONS:
Current RN License
One year of relevant and/or specialty experience preferred
Current Health Certificate (if applicable)
Current TB or Chest X-Ray (if applicable)
Full command, verbal and written, of the English language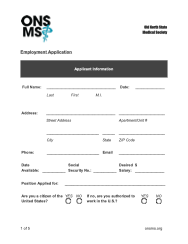 No Google Account? 
Complete this employment form and email it to hr@onsms.org with the subject line: "Registered Nurse Candidate: [your name]"