ONSMS is seeking an EMT/Paramedic
EMT Paramedic Job Description
PRIMARY FUNCTION:
EMT/Paramedic will be on site during vaccination administration to assist patients if necessary for medical emergencies.  EMT will deliver patient care, support and evaluate on the scene and transport to hospital if deemed necessary.  EMT will assess the situation of the patient, determine proper medical care, and administer treatment. Note: This is a temporary position through December 30, 2021.
ESSENTIAL FUNCTIONS:
Examine and evaluate patients to determine necessary care
Provide patients with emergency care by utilizing appropriate techniques and equipment
Document patient information, condition, and treatment
Maintain patient confidentiality and perform all care with respect for patient rights
Transport patients in accordance with outlined policies and procedures
Maintain a safe, clean, and well-stocked environment for patients
Operate and drive ambulance in conjunction with applicable safety policies and laws
Provide basic life support and gather patient data
EDUCATIONAL/TRAINING REQUIREMENTS:
High school diploma or general education degree (GED) required
Current EMT certification/license in the state of practice
Current CPR certification
EXPERIENCE REQUIREMENTS:
Must possess a valid driver's license in the state of practice
1 year of experience in an emergency care setting preferred
Ability to bend, pull, push, and lift up to 50 pounds
Ability to follow oral and written instructions
Demonstrated ability to implement clinical care in accordance with outlined policies and procedures
Ability to exercise sound judgment while working in a stressful environment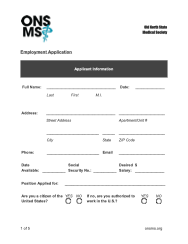 No Google Account? 
Complete this employment form and email it to hr@onsms.org with the subject line: "EMT/Paramedic Candidate: [your name]"