ONSMS is seeking an Administrative Assistant
Administrative Assistant Job Description
PRIMARY FUNCTION:
Provides excellent communication skills to internal and external customers. Has the capacity to manage a full range of administrative support to the organization. Answers and directs phone calls, schedules meetings and appointments, email inquiries, orders office supplies and first point of contact for a range of stakeholders.
ESSENTIAL FUNCTIONS:
Telephone coverage and reception for administrative suite
Responsible for administrative support to office staff and personnel when needed
Maintains inventories of equipment and supplies
Processes and directs incoming mail
Works closely with department members, medical staff and other appropriate personnel as necessary
Schedules meetings for Project manager, Office manager or administrative suite as necessary
Manages travel and expense reimbursements
Department timekeeping and related personnel functions as it relates to the hiring and separation process
Interacts with co-workers, visitors, and other staff consistent with the values of ONSMS
Assists with other duties as directed by Leadership Team
EDUCATIONAL/TRAINING REQUIREMENTS:
High School Diploma or GED. Associates degree preferred
EXPERIENCE REQUIREMENTS:
Two to Five years' experience in a professional office setting and clinical experience preferred.
Proficient with Microsoft Office with strong knowledge in Excel and Powerpoint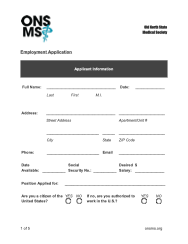 No Google Account? 
Complete this employment form and email it to hr@onsms.org with the subject line: "Administrative Assistant Candidate: [your name]"