By Dr. Brian Shackleford, The Old North State Medical Society
---
While many people celebrated the relaxation of the CDC's guidelines released this past August, for another subset of the population, there was an increase in fear, anxiety, and more limitations. Though this subset is a small minority, many of them have expressed via numerous channels the feeling of being forgotten, left behind, or disregarded entirely.
Over the course of the pandemic – nearly three years now – those who are medically vulnerable or severely immunocompromised have put their lives on hold and significantly minimized their worlds because, for many, a COVID-19 infection could easily mean death.
When the COVID-19 vaccines were first introduced, much of society released a collective sigh as some level of protection was on the horizon against a virus that shut down major cities and altered the workplace as we knew it. But there was still a group waiting with bated breath because those who are immunocompromised/medically vulnerable were not included in the clinical trials. Unfortunately, it was found that for patients actively undergoing cancer treatment, stem cell and solid organ recipients, and others with conditions in which their immune system is blunted in some way, the vaccines didn't offer the same level of protection. The start of 2021 signaled a bit of freedom for most but meant nothing to others.
It was further learned throughout the year that despite multiple doses of vaccines, some immunocompromised individuals were still unable to mount an immune response.
In December 2021, a lifeline to those with conditions that severely restricted life for nearly a year came in the form of Evusheld, a monoclonal antibody combination delivered intramuscularly that provided these patients with the antibodies and defense that their bodies were unable to make. The use of Evusheld was 83% effective in preventing symptomatic COVID-19 infection for up to six months. Unfortunately, this data was collected prior to the proliferation of the Omicron variants, and research has shown that its efficacy has decreased in neutralizing the BA.5 subvariant.
With this information being relatively recent, in combination with the loosening of CDC guidelines, Summer 2022 is beginning to feel a lot like Spring 2020.
Of the many vantage points that have been expressed over the past two and a half years, unfortunately, many have overlooked the frustrations of this small, but equally important group of individuals.
One of the best ways to help those who are medically vulnerable/immunocompromised is to stay up to date on COVID-19 vaccines. Everyone ages 5 and older is eligible for a booster shot and is considered fully vaccinated after a total of three doses. Omicron-specific boosters are expected to roll out sometime after Labor Day following a review by the CDC.
In nearly three years, we have all seen the ramifications of the pandemic and experienced a plethora of variants, and we soon will have a tool at our disposal that can help eliminate much of it.
When the Omicron-specific booster becomes available, visit ONSMS.org/get-vaxxed to find out how and where you can get your booster. Not only will we be one step closer to the end of the pandemic, but we'll help ensure that everyone has an opportunity to fully live their lives.
---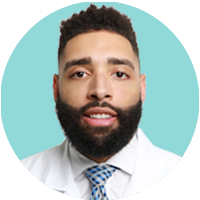 Dr. Brian Shackleford, an internist, and North Carolina native, prides himself on being an open, honest, relatable, and personable physician of faith who has a deep commitment to the health and well-being of his patients. Under his care, patients can be assured that their physical wellness is his top priority. At the young age of six, Dr. Shackleford cemented his passion and future career in serving others when he acted as his grandmother's caretaker when she fell ill. Now, some decades later, he provides that same level of care to the vulnerable populations in Greensboro and Winston-Salem. Prior to the establishment of his own practice, Dr. Shackleford was the assistant chief of medicine at Wake Forest University School of Medicine.